Home
Meditation Group
Free, bring a donation for the charity listed
February 21-6:30 Autauga Co Interfaith Care Center Personal Care Products and Canned goods
March 21-6:30 Autauga County Humane Shelter
April 18-6:30 TBD
Reiki Circle date TBA
Couples Massages Available Friday-Sundays

Military Discounts $5 off per visit
Referral Program

Welcome to Mind & Body Wellness. We are located at 135 1st street, historic Prattvillage, downtown Prattville, Alabama.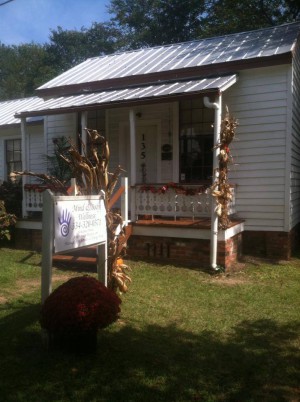 We are mother and daughter licensed massage therapists in the state of Alabama. We love working together, especially for Couples Massages, call to book yours today.

We offer a variety of services to provide you with pain and stress relief: massage, yoga, energy work, meditation, Reiki circles, classes and workshops for individuals, couples and groups. Our goal is to provide pain and stress relief through manual manipulation. We also counsel you on ergonomics in the work place as well as at play, thereby providing longer lasting results.
Each visit is tailored to the individual, providing a unique healing service designed to meet your needs. We work with you during the interview process to develop a plan of action based on your current issues. You may be stressed and in need of a relaxing massage, you may have painful knots or decreased range of motion in certain areas, you may need energy work; whatever your needs are, they are met with attentiveness and care. While you are on the table, we are present with you, "listening" to your body and addressing your problem areas. After the massage, we go over what issues were found, if any, that may need addressing. Our goal is to help your body be fully relaxed and in a healthy state.
Our passion in life is to care for and nurture others. We do this through massage and energy work. Massage helps improve your overall health in so many ways. Call and make an appointment to see what we can do for you.
Gift Certificates and Package & Series Pricing Available